We recently participated in the 19th Open Session of UN Space, hosted by the Service for Geospatial, Information and Telecommunication Technologies at the United Nations Global Service Centre (UNGSC) and the Italian Space Agency (ASI).
Held on 19 October 2023 in Brindisi, Italy, the event brought together a diverse group of experts and stakeholders focused on Earth Observation and integrated applications for disaster risk management and sustainable development.
During the session, we gave an overview of our project and how it aims to respond to the threats posed by climate change.
Our presentation focused on two key elements: our conceptual models and use cases. These models, covering urban floods and water and food insecurity, have been recently developed and will be the basis for the creation of our crisis indices. The indices will be tested in our eight use cases, categorised as hot cases (ongoing or potential crises) and cold cases (significant past events).
There was a particular focus on Mozambique, which serves as a cross-cutting use case, addressing both urban flooding and water and food insecurity.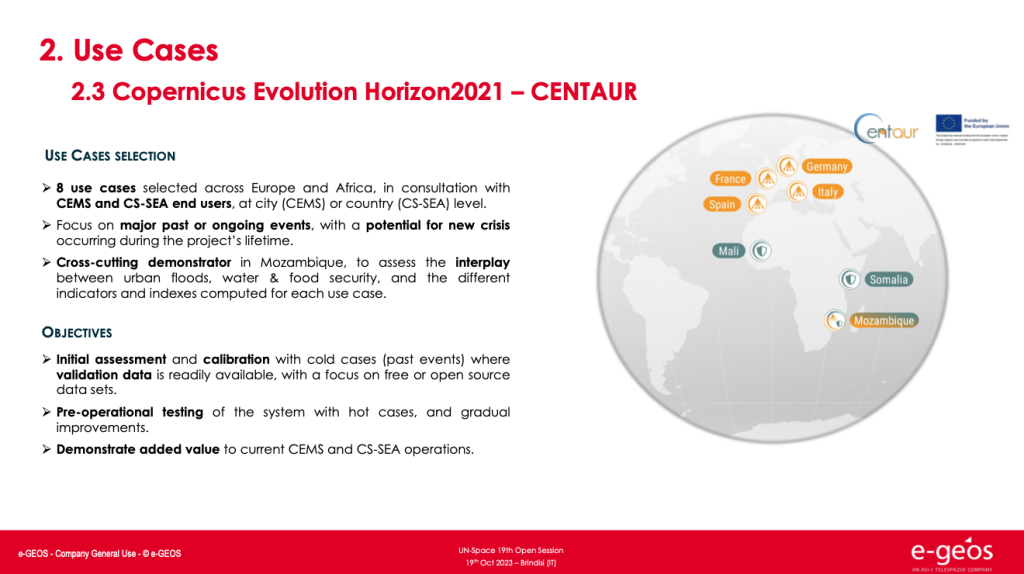 Overview of the project's Use Cases
The event highlighted the importance of Earth Observation data as a fundamental tool to support the Sustainable Development Goals (SDGs).